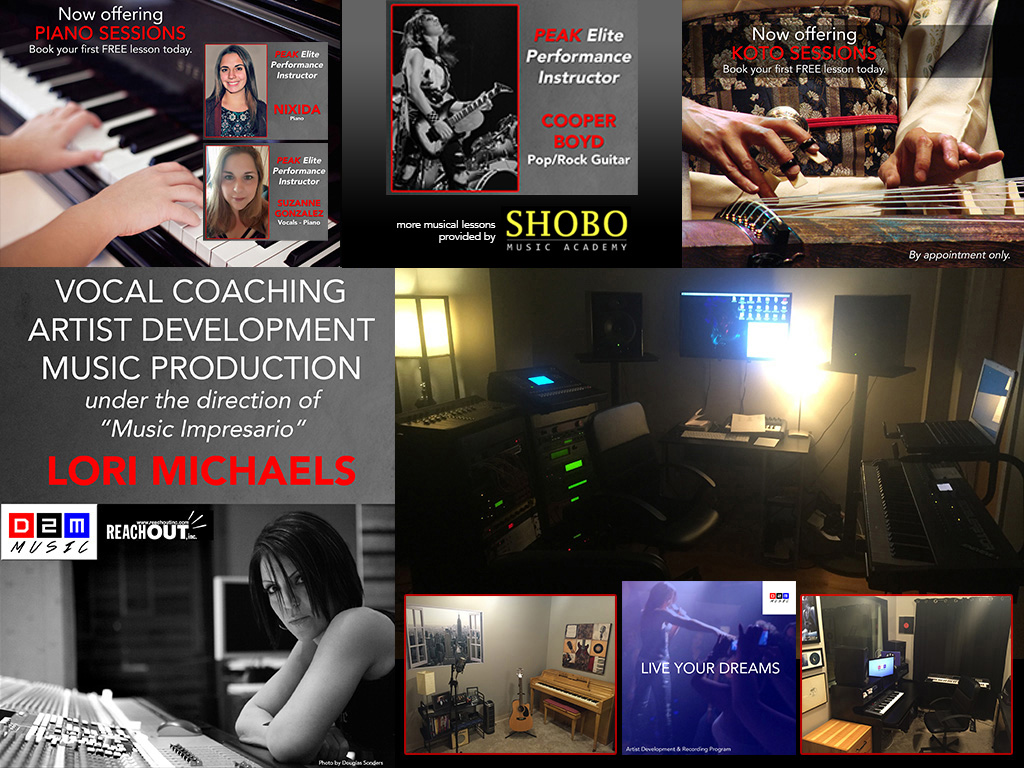 1-ON-1 VOCAL AND INSTRUMENT COACHING
PEAK PAC VOCAL 1-on-1
30 minute session =
$30
/ 45 minute session =
$45
/ 60 minute session =
$60
PEAK PAC PIANO 1-on-1
30 minute session =
$20
/ 45 minute session =
$30
/ 60 minute session =
$35
PEAK PAC GUITAR 1-on-1
30 minute session =
$20
/ 45 minute session =
$30
/ 60 minute session =
$35
Also offered: FLUTE – VIOLIN – KOTO / session prices
TBD
.
Scheduled lessons are led by our PEAK ELITE Performance Instructors (by appointment only).
We are pleased to continue our PEAK Musical Promotional Partnership with
SHOBO MUSIC
(located nearby in Cliffside Park) where additional music/musical instruments are offered daily.
Pricing per Shobo Music lesson/session will vary and payment is made directly to SHOBO MUSIC.
We are also proud to offer piano/organ lessons by Castro's
William Monell
at PEAK PAC.
Mr. Monell is an accomplished musician and well-recognized in authoring a piano learning series.
If you were able to catch a few of our premiere PEAK PAC showcases or any of our OPEN MICS, you might have already heard what we have started: VOCALISTS, MUSICIANS, and more NOW have a chance to take your skills to a higher level (under the direction of Lori Michaels) with our scheduled
GROUP JAM Sessions/Rehearsals & LIVE Performances!
Payments per session will start as low as
$5
per Performance Artist (per session).
Scheduled session dates and times TBA.
If you are interested in this type of training/opportunity, please contact
Lori Michaels
directly.

ARTIST DEVELOPMENT & RECORDING OPPORTUNITIES
D2M MUSIC
is proud to present specialized packages catered to helping you on your musical journey;
whether it is to grow as an artist/performer, to record a track in a professional recording studio,
and/or to actually record and release your very own single.
D2M MUSIC
, under the direction of Grammy™ Nominated Music Producer
Giuseppe D.
and Music Impresario
Lori Michaels
, will enhance your sound, improve your style,
and help you live your musical dreams.
PRODUCTION & AUDIO ENGINEERING 1-ON-1
Sessions are now offered by appointment only (under the direction of
Giuseppe D.
)
with prices customized to suit your needs.